Benchmarks for mission-driven marketing are finally here.
If you're like most mission-driven marketers and communicators, it's hard to know if your marketing efforts are behind, on pace, or ahead of organizations like yours. With so few marketing benchmarks specific to the mission-driven space, you're left reading through general B2B or even B2C marketing benchmarks that don't accurately reflect your efforts or industry.
That's why we created the

Marketing Benchmarks for Mission-Driven Organizations

. It breaks down:
The results of nearly 450 responses to The Mighty GPS™, our self-assessment for measuring your organization's marketing maturity.

Where mission-driven organizations are most

and least

effective across six key areas of marketing.

What are the most mature marketing teams doing to be so effective, and how can you, too.

Breakout benchmarks for associations, nonprofits, and educational institutions to compare yourself, set expectations, and create a path to mightier marketing.

Recommendations and best practices to increase your marketing effectiveness.
Discover how your marketing compares to nearly 450 of your peers.
"The benchmark report is such an amazing resource, and we've already taken new action steps since reviewing it! "
- Kelsea Watson, Director of Marketing and Events, ATLIS
30+ points
Organizations who set specific, measurable goals for their marketing efforts, overall, have a total marketing maturity score that's 30 points higher.
23+ points
Organizations with leadership who believe in the power of marketing, overall, have a total marketing maturity score that's 23 points higher.
21+ points
Organizations with a sufficient marketing budget to reach their goals, overall, have a total marketing maturity score that's 21 points higher.
Take The Mighty GPS
Our marketing benchmarks were created from the nearly 450 mission-driven organizations who took The Mighty GPS, Mighty Citizen's marketing maturity self-assessment. To get the most out of our benchmarks and compare your marketing effectiveness to your peers, we highly recommend you take The Mighty GPS before reading the report. The Mighty GPS evaluates your marketing across six key categories. When all six categories are combined, a final "score" and "stage" are provided to reflect your total marketing maturity.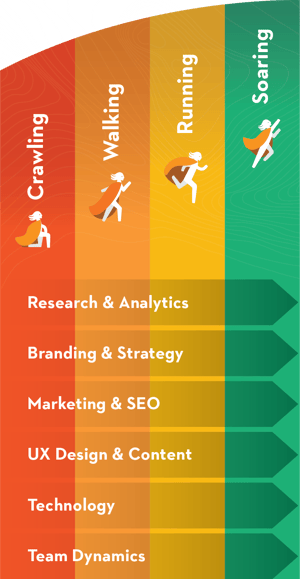 Your stage of marketing maturity—Crawling, Walking, Running, or Soaring—is measured across six key marketing categories.
About Mighty Citizen
The Mighty GPS™ and Marketing Benchmarks for Mission-Driven Organizations are designed and managed by Mighty Citizen, a branding, marketing, and website agency for mission-driven organizations. We develop research, strategy, messaging, websites, campaigns, and digital marketing to increase impact and improve the world.